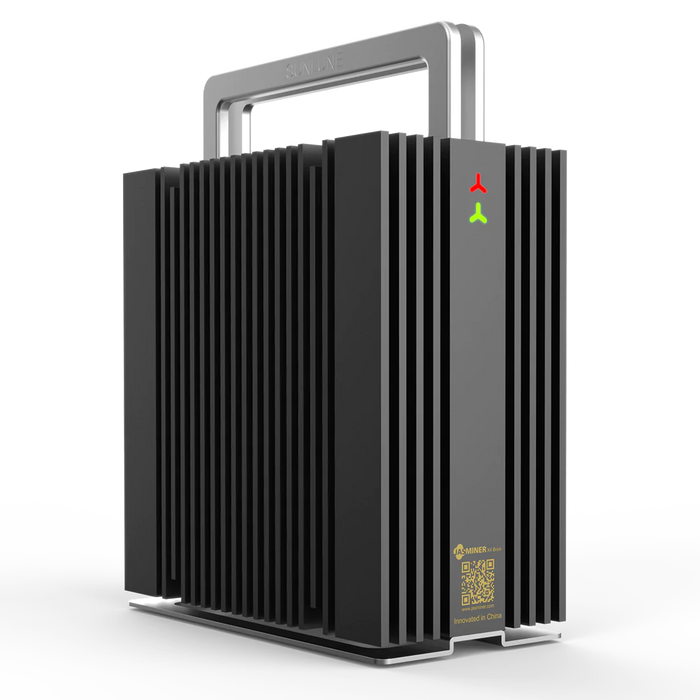 Jasminer X4 Brick ETCHASH Crypto Miner
by Jasminer
Jasminer has pulled off a unique stunt by releasing an ASIC crypto miner as special as Jasminer X4 Brick. It is one of the most brilliant miners with a unique structure. It is accompanied by a handle at the top, and its weight is lower than most of the other miners in the line. Such a structure makes it easily handled by newbies.
Its power consumption is 30W which is incredibly low when compared to some of the other crypto miners of 2022. Its hash rate is 65 MH/s which is impressive given its power consumption. Thanks to the Ethash algorithm embedded in its architecture, you can mine over 20 coins. Apart from that, it comes with plenty of other facilities that make it truly an amazing device, especially for profitable mining operations. Such an algorithm also makes transactions faster and much more convenient. You can mine for a longer duration compared to other miners, thanks to its functions.
| | |
| --- | --- |
| Manufacturer | Sunlune |
| Model | Jasminer X4 Brick |
| Also known as | Jasminer X4 ETCHASH Brick |
| Size | 257 x 100 x 200mm |
| Weight | 4800g |
| Noise level | ??db |
| Fan(s) | Fanless |
| Hashrate | 65Mh/s |
| Power | 30W |
| Algorithm | EtHash |
| Interface | Ethernet |
| Temperature | 5 - 40 °C |
| Humidity | 5 - 95 % |
Taxes and Customs Duties:
Our products are Excluded from all value-added taxes and customs duties. You will be solely responsible for paying any outstanding taxes and duties as per your country's law and customs. If these taxes are ignored and the product is shipped back it will be additional charges. However, we tend to declare a low value on the package to avoid high custom taxes.
Delivery
It is very important to leave your contact number in order for the courier to contact you.
After Dispatching delivery is taking 5 - 15 working days.