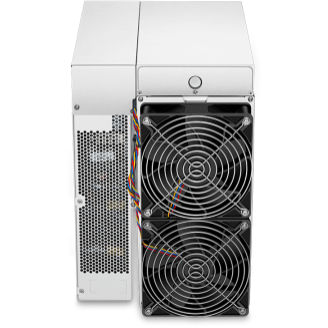 Bitmain Antminer L7 - 9050MH/s
by Bitmain
Antminer L7 - 9050MH/s
When it comes to professional ASIC crypto mining machines, Bitamin Antminer L7 may be considered one of the most powerful options. It is built for adept crypto investors and miners who are looking for advanced systems for mining LTC coins or Doge coins. Arguably, this model is the most powerful system to mine these coins. Apart from LTC and Dogecoins, it can also be used to mine AUR, EMD, NLG, VIA and other top coins.
Boasting a hash rate of 9050 MH/s, the Bitamin Antminer has impressive data processing capabilities. The model consumes a total power of 3425W, which is not a moderate number. However, considering its powerful capabilities and impressive features, it is understandable. The ASIC crypto miner is not the quietest when it comes to its working. It can generate noise levels up to 75 DB, which can become quite noisy. However, it is a proper system with in-built cooling systems and powerful architecture to mine coins.
Mineble coins - Auroracoin (AUR), Emerald (EMD), Litecoin (LTC), Gulden (NLG), Verge (XVG), Florincoin (FLO), GameCredits (GAME), Einsteinium (EMC2), Dogecoin (DOGE), Viacoin (VIA), Vsolidus and others
Manufacturer

Bitmain

Model

Antminer L7 (9.05GH)

Also known as

Antminer L7 9050Mh

Size

195 x 290 x 370mm

Weight

15000g

Noise level

75db

Fan(s)

4

Hashrate

9.05 GH/s ±5%

Power

3425W

Voltage

176~264V

Scrypt

Interface

Ethernet

Temperature

5 - 45 °C

Humidity

5 - 95 %
Taxes and Customs Duties:
Our products are Excluded from all value-added taxes and customs duties. You will be solely responsible for paying any outstanding taxes and duties as per your country's law and customs. If these taxes are ignored and the product is shipped back it will be additional charges. However, we tend to declare a low value on the package to avoid high customs taxes.
Delivery
It is very important to leave your contact number in order for the courier to contact you.
After Dispatching delivery is taking 5 - 15 working days.